MGM Resorts International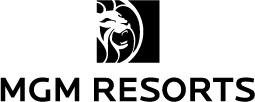 MGM Resorts vision is to be the World's Premier Sports, Entertainment, and Hospitality Company. We live by four core beliefs that have long remained tenants of our strategy and operating philosophy. The company strives to develop and create extraordinary experiences, provide consistent and outstanding guest service, build and sustain the communities in which we work and live, and to be respectful, inclusive, and responsible in all we do. Our Las Vegas roots are a proud part of our history and heritage, and a signature element of everything we create, wherever we may operate.
This is an exciting time for MGM Resorts in terms of culture. We began Our Cultural Journey last year and have continued this year by introducing our evolved values for our organization. We believe that culture is not just a program or initiative – it is who we are! We live our values by delivering WOW! experiences to our visitors, guests, and fellow team members, achieving high standards with integrity, taking pride in our community, and collaborating together to succeed.
Address
3260 Sammy Davis Jr Dr
Building B, 1st Floor
Las Vegas
NV
89109
United States