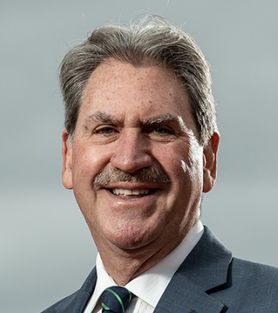 David Haggerty
President
,
International Tennis Federation
David Haggerty is the president of the International Tennis Federation, a member of the International Olympic Committee and a board member for the U.S. Olympic & Paralympic Committee.
Haggerty was elected president of the ITF in September 2015 and re-elected for a second term in September 2019. He was elected to membership in the International Olympic Committee in January 2020. Previously, he served as chair, CEO and president of the U.S. Tennis Association board of directors, and chair of the U.S. Open. He additionally served as chair, CEO and president of Head USA and president of Penn Racquet Sports for 14 years before retiring to focus on his volunteer roles with the USTA.
Prior to his tenure with the USTA and U.S. Open, Haggerty was an owner of Prince Sports Group, a leading global manufacturer of tennis rackets in Atlanta, where he worked for over 13 years before becoming president of Dunlop Maxfli Slazenger Sports. He is also a member of the International Tennis Hall of Fame board of directors and the Women's Tennis Association.